Avast Free Antivirus Review
Powerful, free antivirus for you and your family
Avast is one of the most popular names on the free antivirus software arena. It is one of the first companies to offer free antivirus software in 2001 and has since managed to retain its popularity and market share. There is a paid version of the software – Avast Antivirus Pro – which comes with a host of useful features, improved detection rates and 24/7 phone support.
Avast has two main functions: antivirus protection and potentially unwanted application (PUA) detection, for when bad apps attach themselves onto legitimate downloads and end up slowing down your CPU.
One of the software's features is a network scanner, which analyses your network settings and passwords and suggests improvements to increase their strength. The free package comes without anti-spam and a firewall. Password protection also requires an upgrade.
Free protection can be expanded with the addition of Avast Browser Safety, which is also available as a free download, and serves to prevent ad networks from tracking your movements online, and to block harmful web sites and offers. Free Avast AV apps for Mac, Android and iOS are also available, and offer decent protection for all your devices.
The main control screen is user-friendly and uncluttered, laying out all the important information. There's a good statistics module that displays both the work the software has done on the local computer and global user statistics for comparison.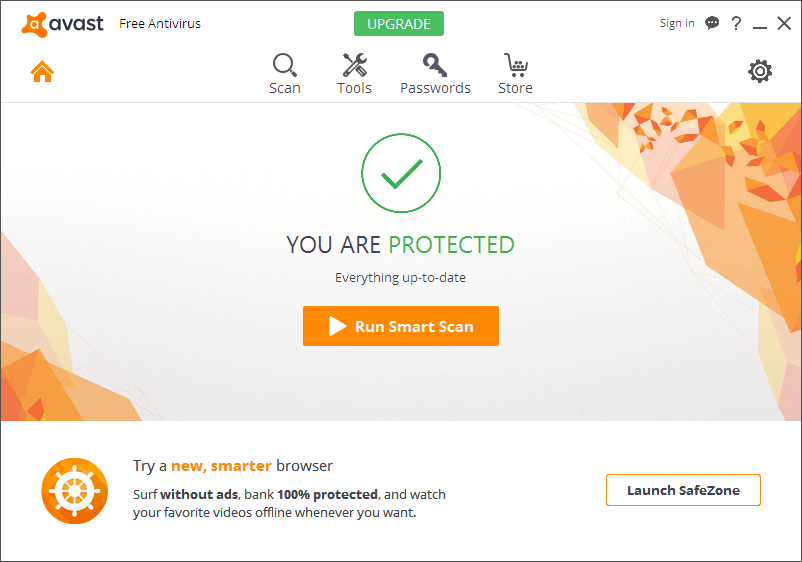 Avast Free Antivirus Performance
Avast Free Antivirus takes about an hour to scan a 50GB hard drive at a scan rate of 204 files/minute, which is better than some of the fastest scanners. There is not much difference in scan time on a second pass, however.
The scanner doesn't slow down the CPU and a 1GB copy takes about six seconds longer with a scan running in the background. This represents a 14% increase. This is in line with data released by German test house AV-Test as well tests carried out by PCMag and PC Advisor. AV-Test give detailed breakdown performance statistics on their site for all operating systems that Avast Free Antivirus has been tested on. This good performance is backed up by unobtrusive behaviour during the installation of a wide range of applications and execution files, with Avast Free Antivirusnot flagging them as potentially hazardous – something most antivirus software programs are known to do. On this occasion, it actually prompts the user to specify whether a suspected application is allowed to run.
The network protection scan detects home router security problems and gives good results in malicious URL blocking. There are additional security-related bonus tools, such as scans for missing patches, sketchy browser plug-ins, etc.
Avast Free Antivirus Experience
Perhaps the best feature of Avast is its clean, user-friendly interface, which is comprehensive and easy to navigate. There are five types of scan: a virus scan, an outdated software scan, a scan for threats within the local network, and a scan for potential performance issues. The Smart Scan option is a combination of all five and at the end it displays a report of threats relating to each of the above categories. It is useful in detecting outdated plugins, drivers and for directing each application to run updates.
The SmartScan feature also runs the GrimeFighter tool, which displays all "unnecessary junk" on a PC. This includes incorrect system settings, "junk files" and unused applications, but it does not give their location. If you want to unlock this feature you will have to pay an additional amount of money to solve the issues. As a whole, Avast does not lure users towards upgrades and paid add-ons, which is refreshing compared to other antivirus software products on the market. The Home Network Security feature scans your network to find infections and vulnerabilities and can identify routers that are using default passwords as well as checks if your network is accessible from the Internet.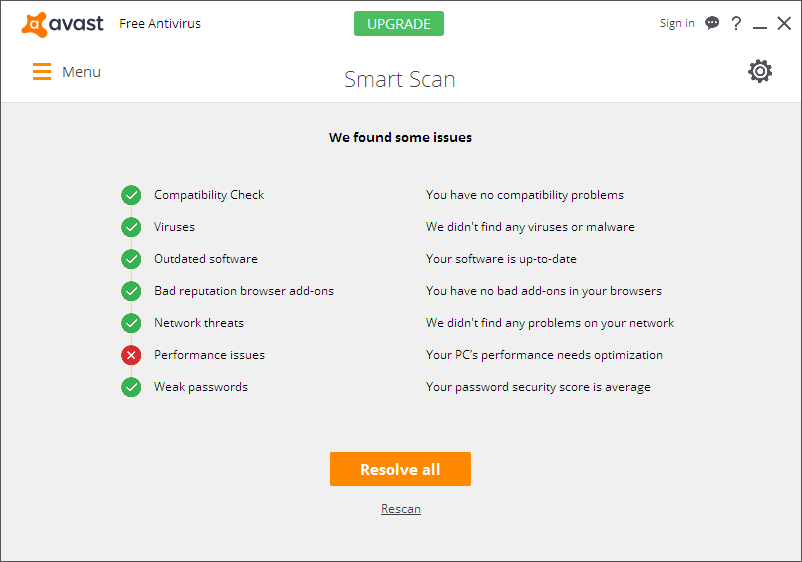 Another benefit is that the majority of the features, such as regularity of scans, locations to be scanned, exclusions, etc. can be tailored to your own preferences, making Avast flexible and suitable for more advanced users as well as beginners.
Given its array of features and performance, Avast Free Antivirus is one of the best free security products. It offers a surprising range of decent options and tools, including application and browser app analysis as well as a separate Android suite that covers AV and anti-theft. It is extremely user-friendly and suitable for home and office environments.
The program regularly updates malware definitions and itself to stay current against new threats, which is convenient and doesn't require the user to keep track of updates, although annual registration is required to continue using Avast Free Antivirus. The fully functional antivirus, antispyware, and heuristics engines software provides real-time protection of files, email, web surfing, P2P transfers, instant messages, and even detects suspicious behaviour patterns. Additionally, scan browser plugins are able to find installs that have a poor reputation and may be malicious.
As a whole, Avast Free Antivirus is a comprehensive antimalware tool and antivirus program. The only additional benefits you get from purchasing the "Pro Antivirus" or "Internet Security" packages are firewall, privacy, and spam protection, which are also available from other programs for free.
Avast performs well in matching the performance of the best paid-for antivirus software programs in terms of protection, providing protection against 97% of common threats, and in most cases prevents them from getting a foothold on the system rather than neutralising them after the fact. It is able to accomplish all of this while remaining light on the CPU. In combination with Avast's sensible, unobtrusive approach and clean, uncluttered interface makes it widely popular with home users.
Avast Free Antivirus Pros and Cons
Avast Free Antivirus provides comprehensive real-time virus protection, also called on-access or resident protection. This means that it can completely replace subscription-based antivirus software from companies like McAfee and Norton.
Pros of Avast Free Antivirus
On-access protection from viruses and malware
"Heuristics engine" to detect previously unknown threats
Silent mode to hide alerts during gaming and other full-screen activities
Easy installation
Proven history of excellent virus protection
Compatible with Windows 10, 8, 7, Vista, and XP
Cons of Avast Free Antivirus
Home use only
May attempt to install unrelated software
Free Registration is periodically required
May show advertisements within the program
Most users complain that during installation they are asked to install the free Google Chrome browser and IE toolbar. These additions are not required but if you forget to uncheck the boxes you have to uninstall them later from the Control Panel. During setup you are required to register Avast to use it more than 30 days. The registration is free and will be a recurring annual requirement.
References:
AV-TEST: Avast Free Antivirus, August 2016
PCMag.com: Avast Free Antivirus 2016
PC Advisor: avast! Free Antivirus, 16 Aug, 2016