AVG Free Antivirus Review
Essential free protection that won't let you down.
As one of the most popular antivirus programs on the market, AVG Antivirus FREE is swift, efficient and very customizable. Its malware-detection scores are nearly perfect, and it doesn't slow down the CPU during scans. One of its advantages are the dozens of ways to customize it, making AVG AntiVirus FREE ideal for security-minded cheapskates who want to be in control of the program's protection and performance. On the downside, users are constantly bombarded with a slew of ads, pop-ups and reminders that badger them into upgrading to various premium services. AVG recently moved from annual releases to rolling releases but users with a subscription will have the latest version of their software.
AVG AntiVirus FREE performs well and has a host of convenient features. It maintains a database of known threats and uses cloud technology to quickly deploy defences against zero-day threats almost immediately as they become known. The software is intuitive and offers smart protection against internet attacks. Support is also very good, and AVG even goes the extra mile making its third-party sharing policy transparent to its users.
Another benefit is the modular installation, where AVG has separate components for monitoring your desktop email client and your Web browser for threats. Users are prompted to choose whether they want to install both of these, if they have other software that covers these bases in place.
Based on independent testing labs such as AV-Test and AV-Comparatives, AVG employs a solid antivirus engine. However, the degree of technical error in the PC Analyzer has an impact on trust and confidence in the overall performance and reliability of the product.
AVG Free Antivirus Performance
A test scan of a 50GB file basket took less than other popular antivirus software suites, at 48 minutes and looking over 236,058 files. Users can set the scanner to high or low speed or leave it as it is to dynamically allocate resources, depending on other PC activity.
Running a full scan while copying a 1GB multimedia file increases the copy time by 4 seconds, which is a 9% increase, indicating a very low resource hit to the system. Overall, AVG matches the industry standard performance drop of 3s, behind products like Avira. Similar results have been reported by AV-Comparatives, PC Mag and PC Advisor.
The Protection score from AV-Test shows an average of 99.5% in both widespread and zero day threats. This is a good level of protection, although a single slipup can still cause a lot of damage to your files. AV-Test Institute highlights the importance of protection against malware in its testing criteria. In their tests AVG defeated 100% of the malware samples used in this test.
The Usability score is ideal as the software rarely (if ever) gives any false warnings or blockages of legitimate software under any of the scenarios that were tested.
AVG Free Antivirus Experience
Both AVG AntiVirus Free and AVG Zen have jet-black interfaces with touches of green and orange and large icons. AVG Free is available for PC, Mac and Android and its management app can be a useful tool to switch between devices. The control screens are intuitive and easy-to-navigate with good, big tiles on the home window, indicating the main modules of the suite. AVG offers manual and scheduled AV scans, the option of LinkScanner to check against browsing to dodgy sites, identity protection against apps stealing personal details and an email scanner for damaging attachments.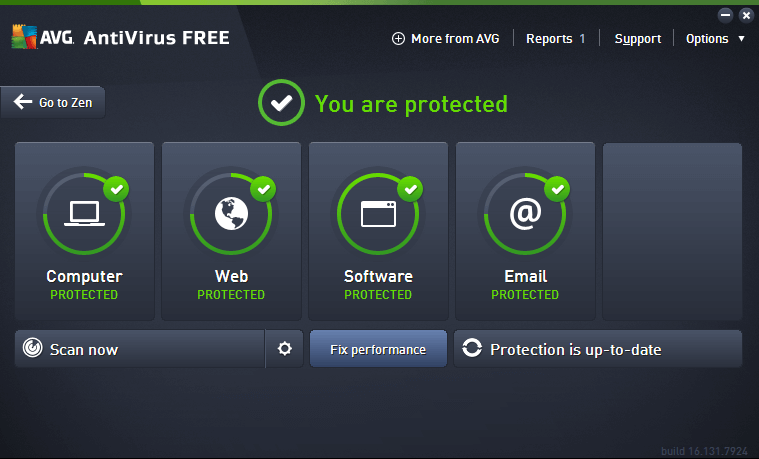 Features like firewall, data safe and spam filter are left for the commercial Pro version. AVG does supply a PC Analyser that optimizes your registry, junk files, fragmentation and broken shortcuts. Users are offered only one free fix, though, before having to pay $40 for the AVG's PC TuneUp to be able to use it.
AVG Free Antivirus' four main functions are: Computer, Web, Identity and Email. Each presents configuration choices when clicked. The Firewall icon on the extreme right is minimized, with a suggestion to upgrade.
The Advanced Settings section offers a lot of options for customizations, such as automatic scans of incoming and outgoing mail, scans of SD cards, thumb drives or external drives. Scans can also be scheduled here.
AVG AntiVirus Free offers protection to Windows XP (SP3) through Windows 10. There are separate, free programs for Macs and Android phones and tablets, but they all include the Zen interface as a stand-alone application.
Creating an account to use the software is not mandatory but regardless of what you choose – AVG AntiVirus Free will keep on trying to upsell you to the company's premium offerings. There's an ad prompting users to upgrade at the bottom of the main interface window, and random pop-ups will appear to praise the virtues of the $60 Pro version, warn that your security is incomplete and urge you to buy the PC TuneUp optimization program.
Non-paying customers can use AVG's online support but to be able to email or call a technician, you'll need to upgrade to the paid version.
AVG Free Antivirus Pros and Cons
AVG Free AntiVirus is well performing software with convenient features although its download can be a bit confusing, leaving you with a trial instead of the free version. AVG is an excellent choice for malware detection but it struggles with distinguishing between legitimate software and malware during a system scan.
Pros of AVG FREE Antivirus
Modular Installation
User-friendly interface
Rolling releases
Decent Phishing Protection
Effective Malware Blocking
Speedy full scan
Cons of AVG FREE Antivirus
Installation 'trap' automatically set to a trial of the paid version (you need to tick the 'custom' option to install the free version)
Constant pop-ups pushing paid features
Faulty PC Analyzer
One-day trial of the PC tuneup component
Third-party sharing of user data (with no opt-out option)
All in all, AVG FREE AntiVirus earns good scores in independent lab tests, making it a good choice for free antivirus and popular with users. It is intelligent, intuitive and light on your PC – a combination that is not easy to come by, especially in a freeshare product. However, this comes at a price and in AVG's case – numerous intrusive pop-ups urging for paid upgrades that quickly become annoying.
Still, AVG Free AntiVirus continues to be one of the most reliable free antivirus programs you can download. It offers a decent selection of key protections, although you have to be careful to install the right product.
AVG FREE Vs Pro (Paid) Version
At all tests AVG FREE Antivirus offers a more than adequate performance but there are a few areas, where it lacks to demonstrate impressive results. Getting the paid version is justified if users want a more seamless experience without intrusive ads and access to features that maintain the health of their PC.
Pros of AVG Free
Blocks dangerous email attachments
Scans quickly & quietly
Stops viruses, spyware, & other malware
Pros of AVG Pro
Blocks dangerous email attachments
Scans quickly & quietly
Stops viruses, spyware, & other malware
Includes Enhanced Firewall
Protects against harmful downloads
Blocks email spam & scams
Pushes updates in real-time
Installs on UNLIMITED computers
Unlimited AntiVirus PRO for Android
References:
AV-TEST: AVG Antivirus FREE and Internet Security tests, 2016
PCMag.com: AVG Antivirus FREE, 2016
PC Advisor: Best free antivirus software 2016/2017, 15 Nov, 2016